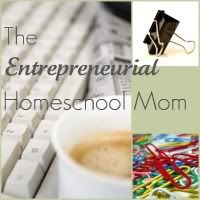 The life of a homeschooling mom is a crazy thing. We balance education, parenting, homeschool friends and co-ops, and a home, all while trying to keep our wits about us. If we're really lucky, we have a loving family that will support us during this awesome yet hectic season.
What do you do if you have a home-based job or business added to the circus? I am the queen of feeling like I have to do it all. It isn't a worldly, "Look at her balancing a career and children all at the same time." It is because I don't want to let my family down in the process of building a company. I enjoy my career. I love it. I also took many years to get here because I was enjoying my family first. Working is for me, like most, a function of living. I just happen to have a passion for what I do!
Organization
One way I keep my sanity is by organizing my work space. Deadlines need to be met, and children need to be fed. How can you balance it all? Take a look at your workflow. Is there a certain pattern in which you attack projects? Can these processes be streamlined so that they take less time? By looking at how I worked I discovered that I really needed a second work table. Just the simple act of adding in more space allowed me to create a more organized area that keeps needed items within reach. It may not seem like a big deal, but knowing that I don't have to cross the room three times to get the reference that I often use saves me minutes each day. What small organizational changes can make your work flow more smoothly?
Routine
Everyone assumes that those of us who work from home have a great amount of flexibility. We do, to a point. Adding in some small routines allow work-at-home, homeschooling parents to be flexible when our children call. How can you add a bit of routine to your work week that will help make your days and nights work more smoothly? Perhaps it is creating the habit of completing a specific task each week while your husband takes the children to karate lessons. Or, consider investing part of your Saturday or Sunday to batch-cook some basics for simple meals during the upcoming work week. Integrating small habits into your routine like these can add valuable time to your schedule which will allow you the flexibility that memories are built upon.
Mindset
You have organized. You have discovered what works for you. You're still distracted. Now what? Check your mindset.
Nine out of ten times, when I'm having a distracted day I find that there is something bothering me. It could be related to a project or even related to a homeschool lesson that my teen is working on (or more likely that I need to prepare but haven't!) Three simple steps bring my mind back to where it needs to be so that I can be productive again.
1. Identify
Stop. Breathe. And think. What is it that has your mind running in five directions? Go through the mental notes that keep popping into your head. Do you need to rearrange your to-do list so that the problem task is completed? Sometimes if we can identify what has our attention we can take care of that nagging item and free up our minds for the task at hand.
2. Relax
Take a deep breath. Are the kids fine? Has the house remained standing? Are you dressed appropriately for the day and weather? (Don't laugh… it can happen!) If you've met these requirements chances are you will survive the work day no matter how tense it may feel. Grab a cup of something warm, and just relax for ten minutes. If you need to, set a timer so that you still have control over your day.
3. Focus
Now that you are relaxed, take a minute to jot down – or type – a quick list of three tasks associated with your current project at hand. Don't stop till you get those three tasks done. It's amazing how a short to-do list will help you regain focus and realize that you are not nearly as far off goal as you once thought.
My Favorite Ways to Control My Day
Siri Reminders: I may be new to the iPhone fad, but I'm apparently hooked and here to stay. I use Siri to set reminders so that I can transition from task to task. I will routinely block a window of time to focus on a work-related task and depend on Siri to send me a reminder that I need to stop for my teen's guitar lesson. Siri will also set a timer for a specified period of time if I want focused attention that doesn't go on too long. Paired with my digital dumping ground, Google Calendar, my virtual assistant is a life-saver.
HoursTracker: As a professional genealogist and freelance writer, I work in a world filled with hourly rates and projects of a specific contracted time length. I need to track my hours! Enter HoursTracker. This beautifully simple iPad and iPhone app allows me to enter in specifics for each client or project such as billing cycles, hourly rates, and tax information. I have the ability to share notes on project milestones that I may have attained during a work period. And, I can export everything via email or even spreadsheet.
To-Do List Hack: This little to-do list method  isn't necessarily a hack, but it has certainly improved my workflow. It has forced me to accurately look at how I am spending my time, what is truly necessary for my day, and how focused I've been during my work hours. I've even adapted it for my teen to use in tracking her coursework. All in all, it's fabulous, and it might inspire you to find a to-do list hack that works for you.
Did You Know?
Homeschool Mosaics is packed with advice for moms and dads who work from home (or who would like to work from home!) Whether you are looking for a way to keep your business vision  or you are looking for an opportunity, Homeschool Mosaics isn't just here to support you with ideas for science or scripture. Look through the archives. You'll be glad that you did!