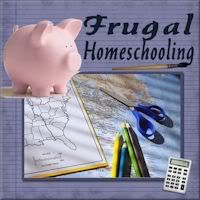 I know it sounds kind of strange to talk about shopping when this is supposed to be a column about homeschooling on a budget. However, I want to share with you some items I purchase which I believe save me money in the long run. I also mentioned a couple other school supply shopping strategies.
For most of my supplies I watch the sale ads from the office supply and big discount stores. In my area most of these stores start advertising really great deals on basic supplies shortly after the Fourth of July. I have been able to get folders, notebook paper, spiral notebooks, erasers, glue sticks, binders, crayons, and pencils for pennies or just a little more. I have also been able to find reams of printer paper very inexpensively during back to school sales. Most of the time there is a limit to how many items you can purchase at the rock bottom price, but I have been known to visit the store several times a week if I need more than the limit.
Another way to ease the burden of supply shopping is to find out if the store has a teachers' card or discount program. Often office supply stores have one and will sign up homeschooling parents as well. Even if the card doesn't offer reduced prices at the time, purchases accumulate and rewards may be offered at a later date.
The discount stores in my area usually price match sale ads from other stores on the same item. However, I have found my stores will not match penny or nickel prices from the office supply stores.
The next items I have spent more money on, but feel they are worth the investement.
Each of my children has their own board. We use them for a variety of activities and games. Some examples are spelling activities, math fact drills, hangman games, mini assignment lists. They also come in handy for explaining math and grammar concepts while sitting next to my child.
One of the big ways I use them is in making write on wipe off work pages. Just slide a worksheet inside, use a dry erase crayon or pen, and after it's checked, wipe it clean. Not only does this save making copies, I have found its one way of making assignments a little more fun.
I also place one page paper and pencil game boards inside a page protector. This is particularly true if the game uses a pencil or pen. That way it can be played multiple times without making multiple copies. Placing games in sheet protectors also allows me to store multiple games in one large binder, thus keeping them organized in one place. This same method also works for storing small game boards with multiple pieces.
Other ways I use sheet protectors is to store newspaper clippings inside. This allows me to save multiple resources on the same topic in one place and they don't get lost or damaged. Then they can be stored in a binder as well. I also store the mini books for lapbooks in a sheet protector until we are ready to glue them in the file folders.
I use both white and colors. In addition to being used for note taking I use them to make card games. I have made trivia games for various subjects, memory and matching games, analogy games, event cards for board games, and sequencing cards. If I don't use them full size, one simple cut in half doesn't take much time and all the cards are the same size.
I also keep one or two handy when I am reading to jot down book titles or websites I want to investigate further.
I check out various activity books from the library for inspiration of new activities. I also use index cards to write out activities I thought sounded fun on and store them in a file box. Not only are the cards handy, but if my children have an idea to change the activity, I can easily write down the changes. Also if they don't care for something I can easily take the card out.
I hope these ideas give you some new ideas to try without breaking your budget.
How do you purchase and use supplies and not break the bank?
Disclosure of Material Connection: This post may also contain some affiliate links. I am disclosing this in accordance with the Federal Trade Commission's 16 CFR, Part 255: "Guides Concerning the Use of Endorsements and Testimonials in Advertising."