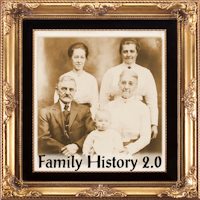 The winter is a time when many homeschool families look for something new to add some fun to our house-bound months. Two words: Unit Study. Do you use them, or do you wonder how they could fit into your family? They are a great way to involve all of your children in the fun of learning. They are also a great way to incorporate your family history into your children's active learning.
Deciding What to Study
Once you decide to create a unit study based on your family's history, you have to decide what that means to your particular family. Is a unit something that you use for enrichment, or is it the foundation of your studies? Your family's history can be the foundation for either approach.
If you've never put together a unit study of your own, don't let it scare or overwhelm you! There are some simple ways to accomplish this.
Determine your focus.
Do you want to look at the history that happened during the lives of your ancestors, or would you rather study a specific point in history with an eye on where your family fit in relation to these events?
Look at your timeline.
What large events occurred during your chosen period? Encourage your children to help you identify events such as wars, battles, pivotal events such as the Civil Rights Movement, Prohibition, etc. that occurred during this time. Are there events that you should include in your study? (Hint – these things tie in wonderfully with the newspaper research discussed below!)
Pull out a map.
Where were your ancestors living in past generations? Did the borders of these counties or states change during their lifetime? Leaning on the list you created with your timeline, locate battles or events such as the Great Chicago Fire on the maps of your ancestors hometowns.
Brainstorm any specific areas of interest to you or your child.
Do you have a Civil War buff? Or, do you think that your child might enjoy learning about the inventors that contributed to your state or your country? Start with a timeline of your ancestors and determine what events happened during their life time.
Family History Activities for Every Age
Want to study Social History?
Look for exhibits that show what daily life was like, the clothing that was worn, or the foods that were consumed.
Who lived in your town?
Look for famous residents in the areas of literature, art, and politicians. How did they influence life during their time of attention? Are there any locations in your area that you can visit to enrich your study?
Have a literary review!
Each in the group should choose a different source to research, and then share with the others what they've learned. Consider reading county histories, historical newspapers, or books written during the time you're studying. (Your historical society will be a big help!)
Go on a field Trip!
Local history museums, societies, and associations offer wonderful programs and exhibits to share the history connected to your area. In our area, we even have a small society that focuses on the history and events in the northwest corner of our county. What kind of resource can you find in your locale?
What faith was your family?
Your family's religious history can tell you a lot about how your family may have come to the area. One side of my family is from a Quaker foundation. There was a migration pattern that brought Quakers from the south to the north due to their position against slavery. Knowing that I have this connection to a denomination with this history can help me discover hints about my family's past!
Featured Resource: The Local Library
Homeschoolers are wildly familiar with their local library. Have you talked to the librarian about their local history resources? Many library systems have at least one branch that holds a wonderful collection of local histories, microfilmed newspapers, and possibly audio or video files. Not only can you find up-to-date materials to help you with your unit study planning, but you can also find some rather old materials perfect for discovering history as it happened.
Building Your Family History Activity: Newspaper Research
When looking for the interesting history to engage our kids, we should automatically jump into newspaper research. Not only can you find information on all kinds of family history events such as weddings, births, and deaths, but you can also explore what life was like for your ancestors via social columns, advertising, and articles. It's a great way to get to know the history of your local area. And, it's so much fun to read about the senior class play in 1942 or by reading printed letters of soldiers during the Civil War. Explore some of your area's newspapers today!
Free Resources for Learning:
FamilySearch Learning Center's resources for Newspaper Research
Someday I Will Be a Newspaper Maven by Jennifer Alford (The In-Depth Genealogist)
Using Obituaries to Find Married Names by Shelley Bishop (The In-Depth Genealogist)
Free Resources for Research:
Chronicling America: Historic American Newspapers (Library of Congress)
For-Fee Resources for Research:
Did You Know?
Homeschool Mosaics shares product and curriculum reviews with their readers. It's a great way to get a "real world" recommendation from a homeschool mom (or dad) who has personal experience with the product. Check out reviews like this one on the One Year Adventure Novel.
Coming in February 2013: Researching and documenting your family's love stories just in time for Valentine's Day!