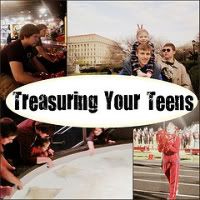 How is your Teen handling entering the High School years?

Is he pretty calm, figuring it will be about the same thing he has always done?

If yes, then keep on keeping on! You have a non-worrier, not a bad type of teen to have at all. Things to mention to this type child may include chats about things to do to boost scores and life skills for college. Continue to stress how much fun the high school years will be. From my experience most boys are like this.
Is she excited, full of excitement and eager to get more responsibility and freedom?
Good! This is a great attitude. If she has the realization responsibility equals more freedom, then you are dealing with a teen who knows how to move forward one step at a time. Help this teen by walking through a four year plan so she knows what to expect. She can take it.
Is she nervous about how she will stack up against other highschoolers socially?

If you are a homeschooler and your teen worries about her social life and standing, you will need to give her some extra support as she tries to figure out where she fits in. This can take awhile, and there is nothing wrong with it. However, bear in mind that her schoolwork may suffer a bit as she focuses on social life more than studies. Help this teen by giving her lots of opportunities to be around others in fun settings. Perhaps start a Bible study in your home or have her take a class in art or photography, a sports class in a non competitive setting.
Is he nervous about how he will stack up against other highschoolers academically?


You may have a type A teen (but, you probably already know this!)
If this teen is strong academically: You will need to help him find a balance so he can achieve without undue stress and tense competition. This teen has probably already set up his own four year plan. Help this teen by getting hard data. Talk about what courses he needs to achieve his goals. Incorporate some SAT test prep into his schedules early on. Have him take a dual enrollment course, or online courses.
If this teen is not especially adept academically: Try to downplay what others are doing. Focus on what this teen's strengths are and help him funnel this worry into a course of study that is useful to him. Help him find what he is good at.
Is he resentful that he will have to do more work?

You may have a type B! This teen wants all the freedom of high school life without the extra responsibility. This teen may have you pulling your hair out. It's okay, just continue linking benefits to actions. This teen should not get more freedom if he cannot deal with the additional responsibility. So he wants to take Driver's Ed? Maybe he needs to pass Biology first. Ahem. That sounded pretty hard core. Also, find out what this teen does not like about the work. Maybe you have a free spirit who would enjoy choosing his own courses and curriculum to make a workable plan he can get excited about.
Is she morose and worried?

This teen may have heard some awful stories about high school demands of work, be in a co-op where there is a real negative competitive spirit, or may just be more of a worrier by nature. Help this teen by walking through everything she will be doing for the year with her. Discuss what is exciting, what sounds good and figure out where the concern lies. Especially with girls, the main issue often is truly how they are going to stack up against other girls, whether socially or academically. (Thanks current culture). Remind this teen that she has value in who she is and high school is just another name for the next step in their education. Add some fun into this teen's schedule and stretch out the transition into high school. Maybe you can do four day weeks and something fun every Friday.
Above all, pray for them. Life is hard and transitions can be difficult. Your attitude can help your teen tremendously. Remember how excited your little one was when they began school? This is the same child, just a new adventure!