Being me, Renée, has always been a bit different than anyone would expect. I was born the second child to a dedicated United Methodist minister with a Southern Baptist's leaning and a strong Christian Deaf woman with the courage to defy anyone who tries to prevent her from doing what is right. That strength came from losing a son, my older brother ( at age six) to the encephalitis epidemic of 1963 and several miscarriages before a second daughter, my younger sister, came along. That pregnancy, too, came with the bitterness of my mom being diagnosed with stage 4 melanoma during her sixth month of pregnancy. My mother stood her ground defying the medical world and her loving family and friends to insist that her child would be born with the best chance at life entrusting her own life to her Savior and Lord, Jesus, forgoing medical treatment until after her daughter's birth. A radical surgery, miracle birth, radiation treatments, and chemotherapy (late in the rapid and aggressive war on cancer) led to a decision that my mother would ultimately be sent home to die. My mother showed such strength of faith that I have never witnessed anywhere else which was rewarded by a miraculous and complete healing during a healing service led by Billy Graham in 1970. These were my early lessons in the love and faithfulness of God to His children.
With those lessons and the love and support of my family, I handled my own tests in life learning to lean on Christ's everlasting arms. I was born with hearing loss that progressed to profound deafness at an early age with further loss to total in my late teens. I learned to speak and continue to have perfect speech. Following my mother's example with her own deafness, I never considered myself different and faced my difficulties head on.
I was born in the South and am a country girl at heart, but my minister father preferred the farthest missionary fields as often as possible, so we traveled in and out of the country exposing me to many cultures and different peoples that gave me a profound understanding that our differences aren't as many as our similarities. I chose a field of service beginning with nursing and physical therapy at first before God showed me my childhood play of teaching, especially Special Needs, was my true place in this world.
During my years of working and continued education, I realized that my sight was not normal. Even though I was night blind as early as five and wore thick glasses because of myopia (nearsightedness), I didn't notice other subtle changes until much of my sight was already gone by my late thirties. I was diagnosed with Usher Syndrome Type III which is Retinitis Pigmentosa (a kind of tunnel vision) and sensorineural hearing loss at the age of 40, but I was already left with only ten degrees of visual field and a sudden drop of acuity field to 20/250. That sudden drop in acuity was the late states of RP taking my central vision and is what led me to seek vision treatment. The diagnosis or Type III is progressive since birth, and I had long been legally blind but had compensated so well that I barely noticed except with the acuity of hindsight.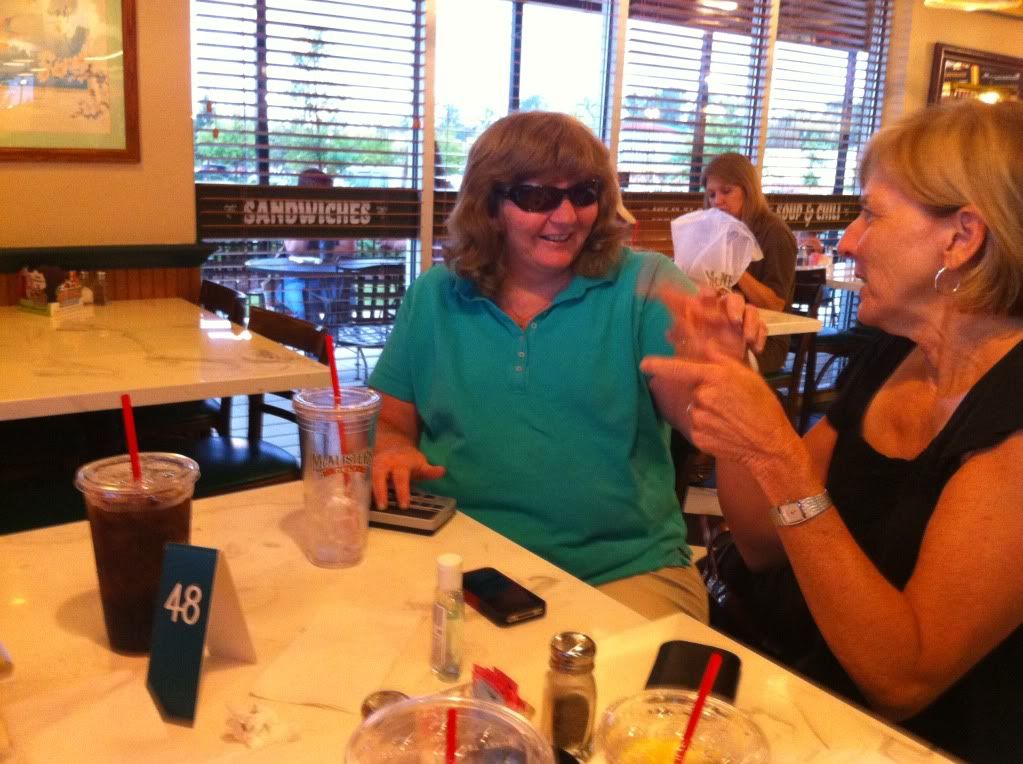 Despite these struggles, I became a state certified teacher holding a T-6 certificate and an Educational Specialist degree, mother of two special needs boys with Autism/Asperger, wife to a wonderful man later diagnosed with Asperger who is a genius with computer software programming, Principal and CEO of Wynfield Christian Academy, and CEO of DeafBlind Hope. After 26 years of teaching in public schools and juvenile prisons, I found myself in a position where few public schools wanted to trust me in their educational positions. How can you be a teacher and be totally deaf and blind? So, I set about to prove them all wrong.  I continued the work of my father in a private school he founded in memory of my brother. Wynfield Christian Academy is now an accredited private school with a homeschooling umbrella emphasis and one-to-one consulting programs for Special Needs children of all types including one of the few truly DeafBlind-oriented programs available. It is also unique in how it is operated. No staff member including myself is paid. We all dedicate ourselves to this project as a ministry for the Lord to the service of his children. DeafBlind Hope is my newest adventure as a non-profit organization whose mission is to provide training and assistive technology to DeafBlind children and adults to help them lead independent and productive lives.
So, now, you will find me in my classroom, teaching children either through the computer or on- on-one touches with braille display and computers and interpreters, training and working to provide hope and independence to DeafBlind children and adults, writing to empower homeschoolers, or reading with feeling all from my home/school in Bolingbroke, Georgia which is in Central Georgia. If I am not in my chair, you will find me out geocaching or exploring with my guide dog, Joey, and my husband, Scott.
Though my world is Dark Silence, I am guided with the light of Christ's love and His warm touch of faithfulness. My mission is simple. To help others find hope from the perspective of touch. Through Him I can do all things.
Do you homeschool?
I homeschooled my two sons, from the time they were in middle school through high school, for a total of eight years. I had not been exposed to the notion of homeschooling prior to this. It was not done a lot in my area until I joined during the early to mid-nineties. The movement has grown strong here since, though. I also thought that teaching was my calling. My place was in the public school classroom for many years. I learned a lot from the experience. Then God chose for me to focus on my own children where home was the best place to educate them. The public and private school settings were not equipped for understanding how to teach special needs students, especially mine whose public school teachers thought they should grow up to be bag boys or sweepers in businesses. Through His guidance, I learned how to use the understanding of my own weaknesses to understand how to teach them with their weaknesses. Eventually, others asked me to help me teach their children, too. That led to the next adventure in my life-operating a private school with an umbrella for homeschooling emphasis.
Is an umbrella program homeschooling?
An umbrella program is an overseeing organization that has the authority to accredit your program if certain guidelines are followed. There is much debate as to whether the education through an umbrella should be called homeschooling. The answer would vary based on many factors from how is the program operated? Does the program control your education or merely give you minimal guidelines for documenting what you as a parent do for your child? What is the legal status of homeschoolers working through an umbrella program in your state? For my umbrella program, they are considered private school students by the state. Homeschool associations here accept my students as homeschoolers because I do not control how a parent teaches their children. I give them minimal guidelines for providing certain aspects of documentation to allow what they do for their children to be accepted for credit. I prefer not to debate the issue, but I am very mindful that we do not want the government to hinder our abilities to homeschool our children if that is what is best for them. I merely wish to support the homeschooler, including independent homeschoolers, in any way I can and offer services to both my students and to independent homeschoolers. However, for writing for Homeschool Mosaics, I am drawing from my teaching experiences in the classroom, my own homeschooling of my two boys, now grown and out of college, my teaching of my current students, and my own learning as I travel the road through life in the Dark Silence. I hope that my combined experiences will give me ways to encourage you in your educational and life endeavors.
Who is your inspiration in life?
I look to the Lord for guidance in all things, and it is His light that keeps me sane in a world without sight and sound. However, I also draw upon the life experiences and words of two people that I know I can relate to well. They are Helen Keller and her teacher and friend, Anne Sullivan. Helen's words have helped me to cope and thrive in the Dark Silence. Anne's methods of working with Helen have taught me how to teach myself and other DeafBlind to learn to live independently and productively in society.
What is your favorite aspect of homeschooling your children?
More than anything else, I really got to know each of my children in deep and intimate ways. We spent so much time together – doing everything together – that I learned what they truly liked and didn't like, how they learned, how they looked at the world around them. I was able to closely watch as they grew toward manhood. That has been the most enriching journey in my life. Nothing else in life will compare to watching and helping my little boys become men.