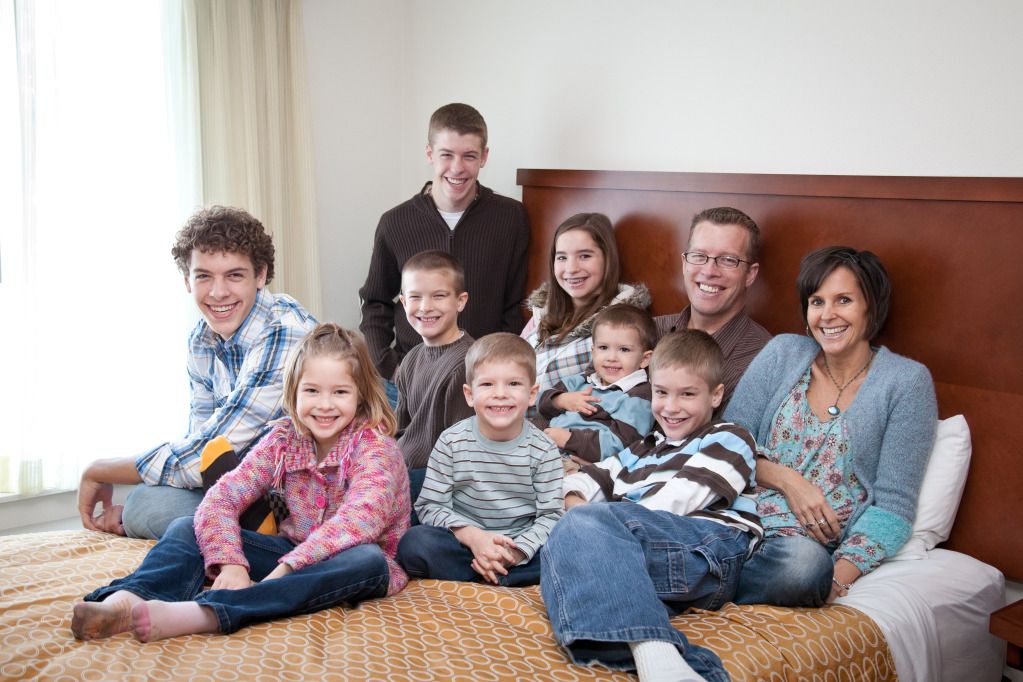 TODD WILSON, author of Lies Homeschooling Moms Believe, Help! I'm Married to a Homeschooling Mom, and The Official Book of Homeschooling Cartoons, is a dad, writer, conference speaker, and former pastor. Todd's humor and gut-honest realness have made him a favorite speaker at homeschool conventions across the country and a guest on Focus on the Family.
As founder of Familyman Ministries, his passion and mission are to remind dads and moms of what's most important through a weekly e-mail for dads, seminars, and books that encourage parents.
Todd, and his wife Debbie, homeschool their eight children in northern Indiana and travel around America in the Familyman Mobile. You can visit Familyman Ministries at www.familymanweb.com.
How many children do you homeschool? Please share their ages.
As of right now, we have eight children living in our house (that's all of them). They range in ages from Ben (19) down to Jed (4). In between we have Sam (17), Katherine (15), Ike (13), Abe (11), Maggie Rose (8), and Cal (6). Ben just graduated from being homeschooled all the way through and is plugging away at a college degree through College Plus. I used to think that when we graduated them…we were done. I don't believe that any more. In fact, I've come to believe that homeschool begins at birth and goes until they leave the house. It's not so much about math and science as it is about training them for life using life as the classroom. That's 24/7/365!
What is your favorite thing about homeschooling?
My favorite thing about homeschooling just so happens to be occurring as I type this: my children are best friends. Right now, Cal (6) and Jed (4) are playing Legos in Sam's (17) room with his Lego tutelage. How cool is that?! Actually, I don't care two hoots about the 'better education' but I care everything about the relationships they have with each other and with us. I grew up with two brothers and one sister…who I didn't want as my friends. After all, I was in school and had my own friends and I certainly didn't want them around spoiling everything. How pathetic is that?
My kids on the other hand will grow up being best friends…because they spend most of their time together. I LOVE seeing my oldest, Ben (19) playing Candyland with Maggie (8)…not because he loves playing Candyland but because his little sister needed a worthy opponent. I LOVE seeing three or four of my kids playing Euchre, building a fort, or making a huge mess TOGETHER. Music to my soul!
What is your homeschool style?
Like most homeschoolers we've 'evolved' in our homeschooling style. We started out with a rigid curriculum and gobs of worksheets…and wore ourselves out. Then one year we were at the Indiana Homeschool Convention and my wife and I walked into a workshop entitled "How to Have the Best Homeschool." The speaker, Bob Farwell, sporting matching white hair and mustache, blew us out of the water with his first statement.
"What you need to do," he said, "is to sell your school desks and then get a big comfy couch." He went on to talk about reading and living books…and relationships that last forever. We were hooked. Ever since, that's what our homeschool looks like. Oh, we're not that picture perfect little family that spends its days reading and sipping lemonade all smiles and sunshine. Most of the time it gets pretty ugly…BUT we learned then that the best part of learning doesn't take place at a desk.