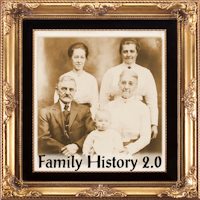 Our families each have a unique history. By collecting and preserving those stories your children take on exciting roles: genealogist, historian, and storyteller. A Russian proverb states, "You live as long as you are remembered." Close your eyes and think of a memory that you shared with your grandparents. Do your children know this story? I am always reminded of the stories my grandmother shared about her father. He was a pastor and a farmer in addition to being the father of a large brood of children. One day at church he had a stroke. The stories that I learned of his recovery from my grandmother showed a determination and faith that I would have never experienced on my own because he passed away before my mother was born. I learned about them because my grandmother shared them with me. By passing on these memories we not only encourage family connections but we honor those that may have passed before us – and we often learn important lessons.
The holidays are the perfect time to engage other members of the family in a family history project. With a little planning and preparation, your children can have a unique learning experience that creates useful skills and experiences while strengthening family ties. Here is your assignment should you choose to accept it this holiday season: Record your family's stories.
Let Kids be Creative
Projects designed for the recording of family history and lore can be great outlets for creativity. Kids can explore any number of methods including film production, audio recordings, creative writing, art, and music. Encourage them to be as creative as they would like as they share their family's story. If they were to have the ability to hear stories shared by their great-grandparents or earlier generations, how would they like to experience them? Use these ideas to generate projects that will excite not only your kids but the relatives that they involve. And, you are integrating all of the areas of focus in our homeschool days: writing, editing, art, history, and more.
Is your child more analytical? Sometimes a timeline may not look creative, but if you have a child that thinks in terms of order it could be the perfect way for their creative sides to shine. Think outside the box when discussing projects. A collection of short stories, a time line, or a chronological photo album are all great ways to record your family's story.
Make a Plan
Who will you see at the holidays? Will you see the same set of relatives at Thanksgiving as you will at Christmas? Think about those who you will see at each event, and begin making a plan for your project. This will help you determine what type of activity would be best for your group. If you have family that you only see once a year, make your project big to take advantage of the opportunity. If your family is made up of multiple ages, consider creating jobs for all kids, including the youngest members, rather than creating separate projects.
Involve Your Relatives
Look at the generations that are represented in your family. If you have older relatives you may want to plan special family photos. Look through your family history information to determine if there are pieces missing that this generation could provide. What are you studying in history this year? Were there events that your relatives would remember? Don't worry if they weren't active in the military or living in the same area as a large event. We can learn a lot from those who were on the home front experiencing these times through television and radio. Think back to our own personal memories of 9/11. I was in Ohio not New York, but I still experienced that day in ways that are unique to my children. What can we learn from our relatives?
Family gatherings are a great time for your kids to practice their interviewing skills as well. Help your kids brainstorm a list of questions that they could ask specific individuals as well as more general questions that can be presented to the entire group. Conversation time after meals can sometimes seem boring to kids. If they are involved in the group through interviewing they won't want the talking to end!
Pick a Project
Littles – Pick a family craft that is fun yet manageable enough for even the littlest members to oversee. This will give them a sense of responsibility, and the memories made during the creation will be as special as those recorded. Simple ideas include creating a Thumbprint Family Tree or collecting signatures and memories in a family autograph book.
Middles – Consider creating a heritage cookbook.  Have your child draft a letter or email to family members requesting that they bring a recipe, family story, and photograph to the holiday gathering. Is there a specific menu that is always prepared for special events or milestones? These pieces can be placed together to create a wonderful heritage piece that will record the history and memories of your family.
High Schoolers – Create a project for older kids with a little more challenge. Consider something that is more long-term such as interviewing family at one holiday and using this information to create a slideshow for sharing at another holiday or event. Add period music or facts that correspond to the time period in which family history events occurred. This project is not only a great gift to the family, but it is also a way to strengthen computer skills. Need a bit more direction? Check out this project  put together by a California high school for ideas.
More ideas can be found in Monday Memories: Easy Ways to Capture Family Memories at Family Gatherings.
Featured Resource
If you would like to learn more about recording your family's traditions, reach for genealogist and homeschool mom Gena Ortega's From the Family Kitchen: Discover Your Food Heritage and Preserve Favorite Recipes
. Not only does Gena give you valuable historical information that will spark many conversations with your children, but she also steps you through the process of not only recording the history of your previous generations but also through saving the history you are creating in your own home. It's a beautiful resource that I highly recommended. You can also learn more about the history behind your family recipes on Gena's blog, Food.Family.Ephemera. 
Building Your Family History Activity: Start finding records!
Last month we took our kids on a home source treasure hunt looking for family ephemera. Now that you've located the information you have at home, talked with relatives, and recorded your basic information on family group sheets, what do you do next? Start filling in the holes! Most people are familiar with Ancestry.com due to the popularity of the television show, Who Do You Think You Are. FamilySearch.org is slightly lesser known to those outside genealogy. It is a treasure trove of information and education, and it's free! FamilySearch is created and maintained by The Church of Jesus Christ of Latter-Day Saints and provided free for those outside the church as well. Search for vital records such as birth, death, and marriage records; federal and state census records; land and probate records; church records; and more. Not every record set is available online for each state, though many are represented. You also have the ability to request microfilmed versions of records not online from the largest genealogical library in the country, the Family History Library in Salt Lake City. These films can be viewed at any Family History Center across the country and are reasonably priced since you only pay the cost of shipping. Learn more through their free video tutorial lessons available under the Learn tab of the website.
Did You Know?
You can read past columns by authors at Homeschool Mosaics on the website. Use the quick links on the homepage to find reviews, interviews, previous articles in the Family History 2.0 column, and more…. even recipes to add to your family's collection!
Coming in November 2012: Are you planning your holiday gift list for your extended family? Family history crafts, sometimes called heritage crafts, make unique gifts that everyone loves. We'll talk gift giving in next month's Family History 2.0!