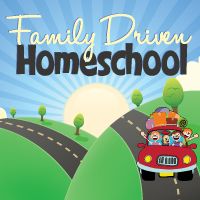 While delivering a session at a speaking engagement recently, I was reminded (by my own words) of some of the reasons doing life and school as a family can be so profitable! Isn't it funny when something you put together comes back to teach you once again? It's a good thing!
At any rate I was delivering a message entitled, "Master Plan your Homeschool"; which, quite honestly, was one I had not done  in close to two years. I always "run" through my talks before I do them, especially if I haven't done them in a while. I'm sure if I had any neighbors that could see me they would think I was a lunatic sitting out on my deck "talking" to myself and gesturing. But as I was running it through, and even while delivering it last night, it struck me that this was yet another reason why family driven homeschooling is so key.
Part of the text I used was from 2 Timothy 4:2 "Preach the word; be ready in season and out of season; reprove, rebuke, exhort, with great patience and instruction." Being a Communications major, this has always been one of my favorite passages; but the part I'd like to focus on today isn't the "preach", it's the "reprove, rebuke, exhort, with great patience and instruction."
Thinking in terms of teaching our children those important lessons, how can this be accomplished? Really, I challenge you to find a curriculum that will effectively do that for you! It's not going to happen. How will your children see how to do this? Well fortunately, or unfortunately as the case may be, their best teacher will be you, their parent!
These are lessons God wants us to learn and he placed us in this little unit of people to sharpen one another especially in these areas. Just because most of the time it will be the parents who do the most modeling and teaching, don't discount the relationship between siblings to create "teachable" moments with one another – sometimes when you aren't even looking!
So the next time you are correcting, encouraging, or instructing, remember –  you are teaching your children what God wants them to learn. And the next time they need to wait for you when you are instructing another child, you can encourage them by letting them know that you are teaching them patient instruction.
The harder part may be when your children point out to you that you have  lost your patience and blown it, or when you've tried for the umpteenth time to explain quadratic equations to your daughter and she's not getting it. This is when you have to remember that, by your example, they are fortunately (or unfortunately) learning from you.
Now if we don't embrace the concept of family driven homeschool and we don't do it together, where would we be? Well, Johnny might be in his room doing his work, Susie in hers, and the baby rocking in your arms; but you'd be missing out on the opportunity God had planned for you to sharpen one another into the image of God.
Sure, it would be much easier to do life separately sometimes. In fact, recently I read a facebook post someone had written stating that sending her kids to school is, "her break from her children". It would be easy and convenient to have a daily "break", but while we'd be sipping on lattes, what would our children NOT be learning? Or even more scary, what would they be learning?
This fact becomes obvious to me even now – while writing this article, my son is insisting on "doing life" together and I must now close so I can work on some more of that "reprove, rebuke, exhort, with great patience and instruction." Until next time, remember that time with our children is fleeting.  Make the most of every opportunity even if sometimes that "opportunity" seems like a frustration at worst or inconvenience at best!