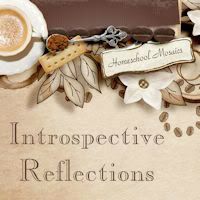 I know I would!  
As a stay-at-home, work-at-home mom, it's often hard to juggle everything that needs to get done.  I'm not good at sticking to a schedule, so making time for school, work, housework, and  getting the kids back and forth to their various extra-curricular activities is difficult enough.  Being responsible for feeding my family is just one more thing to add to my list of things to do each day – and it's often daunting!  What about you?  Can you relate?  (If you're reading this post, I'm sure you probably can!)
Do you have any surefire tips for simplifying dinner at your house?  One thing that we've done is started to develop a menu-plan.  We normally sit down and plan out our dinners for at least 3 weeks; and we do this simultaneously with writing our grocery list so that we're sure to only buy the things that we need.  We have found it hard to actually stick with a calendar-format menu plan – so now we just list 21 meals and prepare them as we want to (or as they fit our schedule).  And we have times when we still have to call my husband to pick something up at the grocery store, or times when nothing on the list sounds good and we just can't decide what we want to make.
Recently, I heard about a new eBook called Simplified Dinners.  And, I confess, I wondered if there could possibly be a surefire way to make dinner more simplified.  I was interested and eager to find out . . .
Most home management books and columns exhort us to plan our meals. But making those menu plans can be daunting. There are so many recipes available and so many options on the shelves of the grocery store that going from recipes to plan to dinner on the table requires lots of organization and thinking. No wonder subscription menu plan services are popular! But you don't need a subscription service if you just simplify the process.
Simplified Dinners enables you to transition toward home-prepared, real, whole foods cooking—even for those less confident in the kitchen. There are no packets, boxes, or pre-prepared foods on the master pantry list, but from it you can make a wide variety of dinners, breakfasts, lunches, and snacks. It truly is a sufficient list. And it's basic. You don't need to shop at fancy grocery boutiques to eat good, natural, normal food. You can make it with the stuff any standard discount grocery store sells. This is real-food cooking for normal people on a budget.
You can learn more about the author of Simplied Dinners – Mystie Winkler – at her Simple Pantry Cooking website.
The good . . . 
I read the first paragraph of the introduction of this eBook and I was intrigued.  It was like Mystie was telling MY story, not her own:
I started creating this system four years ago after I gave birth to our third child. I enjoyed cooking, and shopping frugally was one of my hobbies, but after baby three was born, I no longer had the mental energy to page through recipe cards, cookbooks, bookmarks, keep track of ingredients needed, and remember it at the right time. While I used to be able to keep information in my head, now I found myself lacking the brain power and the energy. Paring down my pantry, purging my recipes, and printing out the processes freed up my mental energy for other things in life – even making it easier to let the children help in the kitchen!
How did she know that I cringe when it's time to create our menu plan and store list?  Unless my family is sitting right there with me, telling me what they are hungry for, I absolutely hate (and put off as much as possible) this task!  I had to read more.
I read further and realized that this book was unlike any other book on meal planning that I have ever seen or read.  And different is good!  I get sick of the same old thing, re-written time and time again.  This book has ideas in it that I have never heard of before.
And, I knew I'd like the book when I read this:
This cookbook is intended to provide the home cook with plenty of options for simple but delicious home-cooked meals that require little preparation time and can be made out of a simply, frugally stocked pantry. Often measurements are ratios or unspecific (like "dash" and "splash"), for three reasons: 1) precise measurements in meal preparation are usually unnecessary; 2) precise measuring increases the time requirement (both while cooking and the added dirtied spoons and cups); 3) precise measuring discourages creativity and individual taste. You should feel free to vary the amounts particularly of spices and herbs to fit the tastes of your family.
I've always been what I like to call a "mix & dump" cook – so this book was really starting to appeal to me!
Mystie starts off my sharing a basic pantry list – items that should be included in every pantry; and, if they are, you'll have the ability to make a bunch of different recipes with them.  This is a different approach to meal-planning and grocery-planning and, if you stick to the plan, should really change the way you see the grocery store.
From there, rather than sharing recipes for various meal ideas, Mystie includes what she calls "processes".  For example, the first process is for Slow-Cooker Roasts.  A simple 4-step process is listed.  Then, underneath the process are 8 variations, or different ways to prepare your slow-cooker roast (for example, there are ideas for Barbeque Pork Roast, Savory Beef Roast, and Cranberry Wine Roast).  Another example of this is the process for Marinades for  Grilling, Broiling, or Pan-Frying.  This page includes a basic 5-step process and 12 variations.  You can try a coffee-molasses marinade for pork, as Asian marinade for beef or chicken, a lemon-pepper marinade for chicken or fish, and many more!
In addition to these processes, you'll also find one for pasta, one for salads, one for beans (yes, beans!) and many, many more!  The last page includes a sample menu, as well as a blank menu template.
The bad . . . 
For as many eBooks as I've worked on creating over the years, I'm still much more happy with a print book.  Easily solved, though, because this eBook is only 30 pages and will be simple (and cost-efficient) for me to print it (and bind with my handy-dandy comb-binder).  I don't want to have to run to my computer every time I need a recipe idea – so having the book printed and available in my kitchen will be great!
While fairly basic (only one page), the Master Pantry List could take a bit of time – and cost – to incorporate.  The fact that you have such a huge variety of meal options once you have accomplished a well-stocked pantry, though, pretty much moves this over to "the good" list.
Learning new things isn't always easy.  (The saying "you can't teach an old dog new tricks" comes to mind here.)  However, I'm willing to learn, even if it takes some time!
The bottom line . . .
If you'd like to learn more, visit Simple Pantry Cooking for yourself.  And be sure to read Mystie's blog, where she shares her own personal menu plans, as well as recipes that she tries in her own home.  Simplified Pantry is also on Facebook.
If the whole idea of simplifying dinners appeals to you, then you'd be silly not to purchase this eBook.  It sells for only $9.99.  Even if you only learn one or two ideas that will help simplify your dinner making, it's worth it!  As for me, I'm really going to try to incorporate this whole plan – because I think it will work.  And I'm excited about the prospect!
Disclosure of Material Connection: I received the products mentioned above for free in the hope that I would mention it on our website.  Regardless, I only recommend products or services I use personally and believe will be good for my readers. This review may also contain some affiliate links.  I am disclosing this in accordance with the Federal Trade Commission's 16 CFR, Part 255: "Guides Concerning the Use of Endorsements and Testimonials in Advertising."