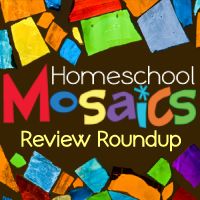 It's a great joy to share one of my very favorite homeschooling resources with our Mosaics readers today. Having just finished our 11th year of homeschooling we have certainly used a lot of different curriculum. Most aren't very special. Very few have earned any loyalty or devotion from me as a homeschool mom. Written by homeschool mom Linda Hobar, The Mystery of History (MOH) is one rare exception
The Mystery of History presents world history from a Christian worldview. When complete, the series will contain four volumes, each covering a different time period. Families can choose their volume based on the time period they are ready to study. Each volume is one year of history curriculum. Families with younger children may progress at a slower pace and take two years to complete each volume.
The curriculum is also designed for students of all age levels. The lesson can be read by mom to younger students or given to older students to work independently. At the end of each lesson, activity options are presented for younger students, middle students or older students. Families with students of multiple grade levels can study history together and yet still assign work that is age appropriate.
Volume I (Creation to Christ) and Volume II (The Early Church and The Middle Ages) are each presented in single books that contain everything your homeschool family needs. Each B&W volume includes notes for the teacher and lessons for the student, as well as all activities and resources.
The newest level, Volume III covers The Renaissance, Reformation, and Growth of Nations (1455 to 1707). Unlike the first two volumes, Volume III is broken into two books, a Student Reader and a Companion Guide. The Student Reader contains the lesson narratives. It is a beautiful, hardcover, full color textbook, with over 400 pages covering 84 lessons. Full of beautiful artwork from the Renaissance masters and so much more, the student book serves as a truly beautiful guidebook for this rich time period.
The B&W Companion Guide, available in paperback or on CD-Rom, contains all the familiar and popular components of the MOH series: Pretests; Hands-on/Research Activities for Younger, Middle, and Older Students; Memory Card ideas; bi-weekly quizzes and exercises; timeline helps; maps; supplemental book lists; and more. The paperback version of the guide is designed to be used as a consumable workbook. The pages are perforated and three-hole punched for easily removing what you need. Large families may opt for the guide on CD so they can simply print multiple copies.
Volume IV (Revolutions and Rising Nations) is still a work in progress.
---
In every level, MOH is designed to cover three lessons per week. Families can cover the material in 3 to 5 days each week depending on your preference. Each week's material includes a "What Do You Know?" pretest, three lessons, individual activities, and review material. In our house, we typically cover history in three or four days a week by saving the review activities for a separate day.
The reason I fell in love with MOH years ago had absolutely nothing to do with the format of the book or the structure of the lessons. From the start, we have loved the way Linda Hobar teaches history… it's not a boring essay about some ancient figure or tragic event. Linda shares these unique moments in history as a friend would share a story over your kitchen table. Each lesson is written in a personal narrative directly from Linda's heart. Every historical event and figure is examined through the lens of a clear Biblical perspective. Linda rejoices when God's hand is revealed in the works of His kingdom and she weeps over mankind's tragic moments in history. Her explanations of complicated subject matter are clear and concise.
We love and adore The Mystery of History. Personally, I got to know Linda during our first year of using the program, which has made the program even dearer to us. Her love for history and, more importantly, her love for God revealing Himself to us throughout history shines through each and every page. Her passion for history and the Gospel provides a rock-solid foundation for The Mystery of History.
Want to know more?
Read an interview with Linda Hobar by our own Mosaics columnist Renita Terrell.
Read my interview with Linda from last year.