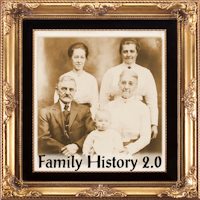 Each February we are surrounded by the theme of love. Cards, candy, and parties arise to celebrate Valentine's Day. How can you use this theme to get your kids excited about family history? Record the love stories of your family!
The Society Pages
Have you ever looked at historic newspapers with your kids? The society pages were filled with stories of family, friends, town happenings… including engagements and marriages! I was lucky enough to locate a newspaper article that documented the wedding of my grandparents. The reporter explained the flowers, clothing, and music in such detail that I was able to picture the lace on my great-grandmother's "Mother of the Bride" ensemble. Many times these newspaper entries will also share how the happy couple came to meet and where they were to live after the wedding. The historical details can launch your children into learning more about the area in which your family lived, the social structure of the area, and even the foods available to the region.
Building Your Family History: Proof of Marriage for Your Family Tree
When you think of proving a marriage, what comes to mind? There are documents, newspaper items, and even photographs to hint or suggest at a marriage match between two people.
Marriage records are most likely held at the county level. What does that mean? You need to know where your couple lived when they got married. Different records were created in addition to the marriage license and certificate that we are familiar with today. One point to remember: Just as engagements break in the present day so did they in the past. If you locate a marriage license be sure to continue your search for a marriage certificate. Just because a license was issued doesn't mean a marriage was performed.
The kinds of records you may find can vary by time period. Some areas, such as South Carolina, did not have records until well after 1900 (though many had them earlier.) Get to know your state's history so you can identify a good record source. You can find information like this at the Family Search Wiki by searching for your state or county.
Did your county record search fail to provide information in your marriage record search? Think outside the box. What types of records could provide this information? Look at: church records, military pension files, family Bibles, newspaper marriage announcements, and census records.
Links to help:
From Attic to Shelf: Finding Home Sources
When you are looking for proof of marriage, don't assume that if you don't have a marriage certificate you can't find out when the marriage occurred. Photo albums, scrapbooks, and family Bibles are all filled with hints and breadcrumbs to help you along your way. Take a peek through shelves and in boxes to discover what you have on hand. You'll be surprised that you have more than you thought! While these items won't necessarily prove a marriage, they will give you a clue as to when and where the wedding may have occurred. Use your detective skills as you are looking through photo albums to identify possible spans of time for events. For example, if you know that Cousin Sarah, born in 1972, was the bride's flower girl then you can guess at the time frame for the marriage. Although these types of home sources aren't considered to be definitive, they may hold the key to finding out more.
Projects from the Heart
Break out the doilies and glue. It's time to make a valentine to remember!
Create a Timeline of Weddings
Bring together several generations in one beautiful frame. Those looking for a fast and easy way to share memories can look for segmented frames ready-made and easy to locate. If you would like to get a bit more creative, try creating a shadow box. If you are lucky enough to have pieces of memorabilia such as napkins, invitations, and dried flowers from one or more wedding incorporate these into your project.
Create a Family Storybook
Interview couples within your family to find out how and when they met, where their marriages have taken them, and how they have grown together. Did different generations have similar traditions? Be sure to include any details that may show ethnic or social traditions that were integrated into the ceremony.
Unfortunately, divorce is a part of our modern world as well. In case of divorce, focus on the story of how the couple met as well as the details of the wedding. Look for happy memories to share.
Write for the Society Pages
Have fun with a writing project! As you look through photo albums or discover records related to a marriage in your family, assign your kids to the case as a reporter for the Society Pages. Ask them to view the wedding photos as if they were there then create a newspaper article just as reports did in days past. Remember my story about my grandparents' wedding article included above. Include details from flowers to formal wear!
Featured Resource: How to Do Everything Genealogy by George G. Morgan
Are you looking for a nice way to step through researching your family's history? How to Do Everything Genealogy
 is a wonderful, all-inclusive resource that will help you learn how to, well, do everything you'll need to make your project come alive.
Did You Know? Homeschool Mosaics doesn't just offer you homeschool support, but they also publish columns to support you in your home and work. In line with this month's theme, check out the Marriage Matters column by Christi Gifford.
Coming in March 2013: Family vacations are some of our favorite memories. In my family we grab postcards at every stop. Have you ever thought of using postcards to include family history in your homeschool? I'll share some ideas so that you can have fun this spring!