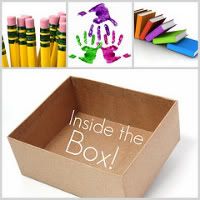 I had quite a few questions about how the workbox system works from those who attended the Homeschool Mosaic's Facebook party so I thought I would take this post to describe what exactly workboxes are and the different ways to utilize them!
The workbox system takes many forms but is usually credited to having started with Sue Patrick's system which uses a system of boxes, a shelf and of course your curriculum to organize the school day. Each evening the parent divides the next day's work into the boxes so that when the child is ready for school he can simply grab the workboxes and go! This allows the child to not only have some independence during school time but also gives a visual of how much work is left for the day and can cut back on the "are we done yet?" moments. It also gives the parent the opportunity to throw in surprises and special treats as a way to break up the school day or reward a job well done. You can also add chores and other daily activities to the boxes!
There are two major variations of the workbox system. The first of course being the boxes themselves. Each box is labeled either with a subject or with a number (I love the idea of laminating the labels and adding velcro to the back so that the labels can be easily switched around) and placed on a shelf that the child can just grab from. The workbox system works well for those with visual children who like to see what is coming up and gives a good storage solution for those school books and papers. However, this version of the workbox system does take up a lot of room, especially if you have multiple children.
The second variation is the file folder workbox system. Instead of boxes, work is placed into file folders. The biggest benefit of this workbox system is that it works well for those who do not have the space for the larger workboxes. You could also plan several days in advance where that would take too many boxes with the other system. The downside is it does not have the visual benifit of the boxes and any supplies for that day would also have to be kept in a separate box since the folders couldn't hold it. I still use the boxes but I imagine that this file folder workbox system would be perfect for middle school and high school levels.
Both workbox systems offer great benefits and since we started to use workboxes I have found myself much more organized and much more likely to do hands on projects with the kids since the supplies are all rounded up and ready to go the night before. I also love thinking up neat ways to surprise them and will be sharing many of those with you in the future!